CC Home Mtg SchedCC DirCompetitions Club Comp Tri-Club NECCC Comp Mbr Galleries
The goal of the Club is to present a wide variety of programs, that appeal to photographers of all skill levels. This years programs include how-to demonstrations, hands-on workshops, slide and digital shows, photo shoots to iconic locations,  both in-house and tri-club competitions  as well as lectures by local and regional photography professionals.
For directions, click here

Slide shows and digital shows are typically set to music or be taped or include live commentary. We try and include shows that have a "location" theme such as member's photographic journeys to Costa Rica or journey along the length of the Appalachian Trail. Other shows are of mini themes meant to entertain or inspire with their visual impact or dram
Workshops provide instruction along with the ability to set up and photograph various objects of interest or of using different techniques. We vary our workshops to  include tabletop setups, rear projection, portraiture or bring in a distinguished speaker for special lectures or educational events.
Sharing Images A large part of our program is devoted to sharing images in a non-competitive environment. During the coarse of the year, we host image critiques by a panel of CCAA Camera Club master members discussing how images might be improved. Members of all skill levels are invited to bring in images to share and discuss.
Photo Shoots to places of interest, led by our members are becoming an increasingly popular event. This gives us an opportunity to share our photographic experiences with others, get to know each other better and have a good time. Good ideas for locations of photo shoots will alwys be welcomed.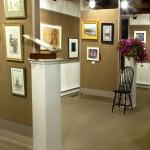 Exhibits Our camera club has the unique advantage of being part of an established art association. You may enter the four Open-Juried Exhibits the Cape Cod Art Association offers and if accepted may exhibit and sell your work. There will be many other outside venue exhibits that the CCAA and the Camera Club will set up for the display of your work.
Social Activities We will have events during the year and details will be announced. One event is the Holiday Party in December with the Awards Banquet, which will recognize those that have achieved various honors in either competition or service to the club.
DIRECTIONS
Meetings are held at CapeAbilities in Hyannis We meet the 2nd & 4th Thursdays of every month in the CapeAbilities building in Hyannis at 895 Mary Dunn Rd. This is at the intersection of Independence Drive. From Route 6, take exit 6 towards Hyannis. At the intersection of Rt 132 & Independence Drive (next to Sam Diegos), take a left onto Independence Drive. Follow this until the end. Take right onto Mary Dunn Rd, then right into CapeAbilities parking lot. We meet in their lunchroom, enter the building, take a right down the corridor and into the warehouse. Thru the warehouse and the lunchroom will be on the left. Everyone is welcome to attend any meeting as a guest.
Camera Club Membership only $40 Annually
Anyone is welcome to join the Cape Cod Art Association Camera Club as a Camera Club only Member at any time of the year upon application and payment of the $40 annual Membership fee. Join Now!
allows you  full access to all meetings, lectures, presentations & workshops.
Participation in Club competitions and critiques
Member of the New England Camera Club Council, it's events and Summer Conference.
Opportunity to compete for scholarship monies
 Camera Club & Associate Membership to CCAA  $85 Annually
By joining both the Camera Club and also joining the Cape Art Association as an Associate Member  you can:
Exhibit and sell your work in Open Juried Shows held at the Art Association
Exhibit in outside venues
Receive the monthly issues of the CCAA newsletter, the Palette
Receive discounts on most CCAA classes and workshops
Camera Club & Juried Artist Member to CCAA $95 Annually
To become an Artist Member , a candidate  must submit a portfolio of five pieces of their recent works. A panel of three judges, overseen by one of the Directors, reviews the work. Portfolio Review is conducted ten times a year. For rules for the Portfolio Review click here.  As an Artist Member you have all the benefits of an Associate Member plus:
You may enter your work into all Artist Member exhibits where your work will be displayed and offered for sale.
You may jury works in the  Gallery Gift Shop where they will be offered for sale.
You may offer for sale up to 5 prints of your work, which will be displayed in the Gallery Gift shop.
You may also offer for sale note cards of your work, which will be displayed in the main lobby of our building or in the Gallery Gift Shop.